Luxury Vinyl Flooring in Modesto, CA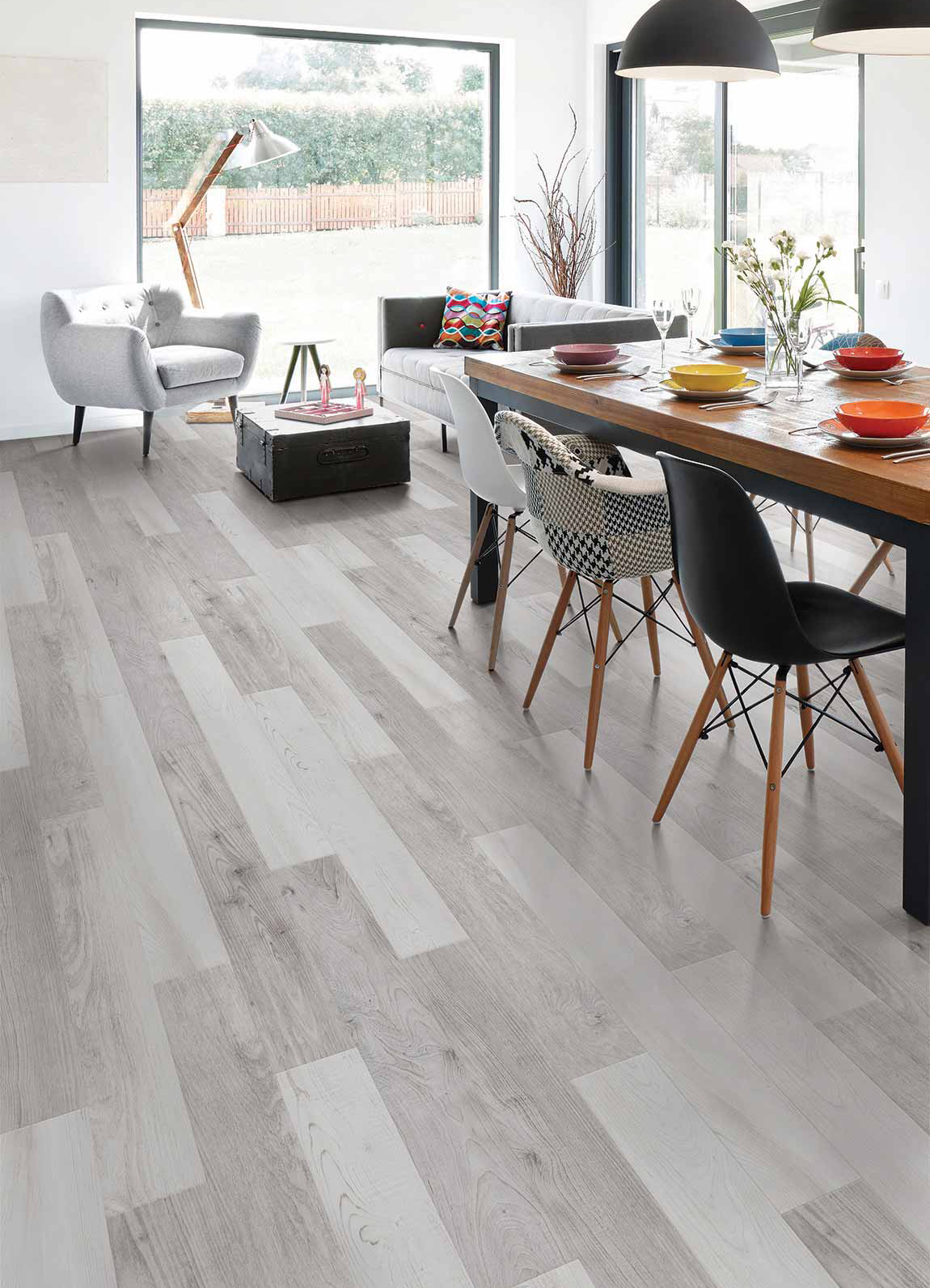 Welcome to TriCounty Flooring America in Modesto, CA, where we specialize in offering beautiful vinyl flooring options. You've come to the right place if you're looking for great-looking floors to enhance your home renovation. Everyone should be able to find the perfect vinyl floors to match their design preferences.
Our team of experts is here to help you navigate our wide range of vinyl flooring choices. We want to ensure you understand all the features and benefits of each type of vinyl flooring so you can make the best choice for your home.
When you visit our showroom, you'll find various options, from modern oak designs to rustic barn wood looks and even tiles that mimic the appearance of natural stone. We only carry top-quality vinyl brands known for their durability and staining resistance, including Mohawk, Shaw, Coretec, Aquarius, Republic, Mission Collection, Palacio, Mannington, and many more.
Upgrade your home's style and functionality with our premium vinyl flooring. TriCounty Flooring America is your trusted source for luxury vinyl flooring in Modesto, California.
The Advantages of Luxury Vinyl Flooring
Luxury vinyl flooring boasts a multitude of benefits that make it an excellent choice for both residential and commercial spaces:
Aesthetic Appeal: Luxury vinyl flooring replicates the beauty of natural hardwood and stone with remarkable realism. It offers various design options, from rustic wood to sleek stone, allowing you to achieve the desired look for any room.
Durability: Luxury vinyl flooring is incredibly resilient and designed to withstand the rigors of daily life. Its robust wear layer protects against scratches, stains, and fading, ensuring your floors maintain their stunning appearance for years.
Waterproof: Unlike traditional hardwood, luxury vinyl flooring is waterproof, idealizing moisture-prone areas like kitchens, bathrooms, and basements. This feature prevents damage from spills and humidity, offering peace of mind.
Comfort Underfoot: Luxury vinyl flooring is softer and more comfortable to walk on than hardwood or tile, thanks to its cushioned layers. This added comfort makes it a perfect choice for areas where you spend a lot of time on your feet.
Easy Maintenance: Cleaning vinyl is a breeze – a simple sweep or mop is usually all needed to keep it pristine.
Versatility: Luxury vinyl can be installed in various patterns and configurations, including herringbone and diagonal layouts, allowing creative design possibilities.
Luxury Vinyl Types
At TriCounty Flooring America, we offer an extensive selection of luxury vinyl flooring options, including luxury vinyl plank, tile, and sheet vinyl. Whether you seek the warmth of wood, the sophistication of stone, or the convenience of a seamless sheet, we have the perfect luxury vinyl solution to enhance your home's charm and functionality. Learn more about these vinyl flooring types:
Luxury Vinyl Plank (LVP):
Emulates the natural beauty of hardwood flooring.
Available in a wide array of wood species, colors, and finishes.
Provides a realistic wood-grain texture for an authentic look and feel.
Resistant to moisture, making it suitable for bathrooms and kitchens.
Luxury Vinyl Tile (LVT):
Mimics the elegance of stone or ceramic tile surfaces.
Offers various tile sizes, shapes, and patterns, including marble and slate.
Texture and embossing for a genuine stone or tile appearance.
Highly durable and ideal for high-traffic areas.
Sheet Vinyl:
Presents a seamless, continuous look with minimal seams.
A versatile choice for replicating hardwood, stone, or tile aesthetics.
Offers a cushioned underfoot feel for comfort and noise reduction.
Resistant to moisture, spills, and stains.
Available in various designs and styles, including contemporary and classic motifs.
Selecting the Right Vinyl for You
With its fashionable hues and competitive rates, our vinyl collection has everything from European gray oak to imported koa wood-look planks. You'll find a style that will fit your design aspirations and budget. As a local store and a Flooring America member, we have access to some of the industry's top vinyl manufacturers at wallet-friendly costs.
To find the perfect combination of durable vinyl and luxury design, browse our selection of vinyl products from brands such as Downs H2O, Galvanite, and Spotlight Values. These brands are waterproof, kid-proof, and pet-proof, making them convenient for homes with small children and pets.
Is Luxury Vinyl Waterproof?
All luxury vinyl products offered through TriCounty Flooring America are 100% waterproof, making them a great choice for moisture-prone areas like your basement, kitchen, or bathroom. Waterproof flooring means you'll have complete peace of mind with protection from leaks and mishaps. You won't have to worry about cupping and gapping due to temperature changes as you might with wood flooring options.
Professional Luxury Vinyl Flooring Installation
Our experienced installers will help your flooring dreams become a reality when you decide to buy new vinyl floors with us. Our team of installers comes prepared with the proper equipment industry practices and the brand and product knowledge needed for a successful installation.
Although many of our vinyl floors can be installed using a simple click-and-lock system, we recommend hiring our professionals to ensure a quick and safe installation. Vinyl can be used in any room, including basements and toilets, thanks to recent advances in flooring technology that have made these floors water-resistant.
Our Ultimate Confidence Guarantee covers all of our installations, stating that if you are disappointed with your floors within 30 days of installation, we will replace them at no cost with a product of comparable value. The Ultimate Confidence Guarantee promises the industry's strongest warranties for all our vinyl brands.
Visit our showroom today or contact us to start your journey to beautiful new vinyl floors. We proudly sell vinyl flooring solutions and installations to Modesto, Oakdale, and Riverbank, CA communities.