Luxury vinyl continues to grow in popularity as a top choice for homeowners who are looking for durable flooring. At TriCounty Flooring America in Modesto, CA, we offer a wide range of luxury vinyl tile that showcases a stunning array of wood-look and stone-look floors. With their timeless appeal and beautiful looks that can withstand permanent marks better than their natural counterparts, luxury vinyl tile is the perfect flooring for your busy lifestyle.
Wood-look options available include everything from exotic koa to hickory to European oak. Our stone-look LVT options mimic the appearance and feel of ceramic and porcelain tiles but are built to withstand heavy foot traffic.
We feature exclusive brands like Downs H20, Downs H20 Life and Galvanite created with one-of-a-kind visuals and stunning floor designs that are offered in multiple unique hues.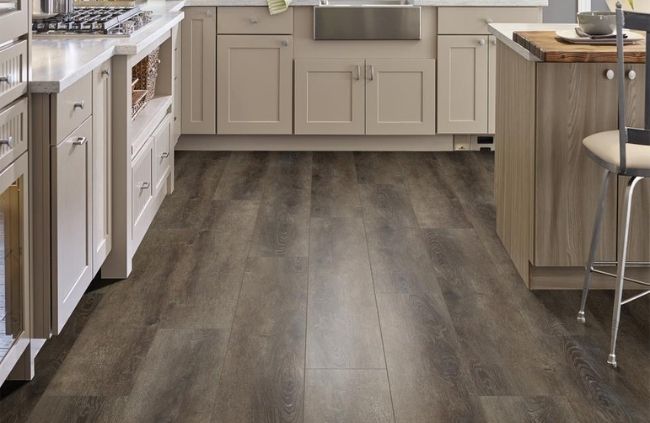 What's the Difference Between Luxury Vinyl and Vinyl?
All vinyl flooring is made from vinyl plastic and contains the same four layers, however, luxury vinyl is a higher-end vinyl option that is thicker than traditional vinyl flooring. The added thickness of luxury vinyl gives it a realistic look and it's available in more natural-looking styles of tile and plank.
How Durable is Luxury Vinyl Flooring?
A Luxury vinyl floor is extremely durable with a thicker long-lasting wear layer that provides protection against water and stains. Since luxury vinyl tile is made entirely from plastic materials, it is more comfortable to walk on and can withstand heavy foot traffic as well as most drops and impacts.
Is Luxury Vinyl Tile Waterproof?
All luxury vinyl tile offered through TriCounty Flooring America is 100% waterproof, making it a great choice for moisture-prone areas like your basement, kitchen, or bathroom. Waterproof flooring means you'll have complete peace of mind with protection from leaks and mishaps. You won't have to worry about cupping and gapping due to temperature changes as you might with wood flooring options.
Contact us today to get started! Check out our extensive collection of luxury vinyl flooring first hand by visiting TriCounty Flooring America in Modesto, CA. We serve clients in Modesto, Oakdale, and Riverbank, CA.