Find the Perfect Hardwood Floors for Your Home
Hardwood Flooring in Modesto, CA
Ready to update your old floors with a stunning hardwood plank? With our extensive collection of beautiful hardwood products, you're bound to find the perfect floors for your home here at TriCounty Flooring America in Modesto, California.
Stop by our comprehensive showroom today and consult with our flooring specialists, who will guide you through every step of the flooring process from selection to installation. As a part of Flooring America, we not only offer a limitless selection of styles, plank widths, and hues from top manufacturers, but we also have unbeatable prices that are easy on your wallet.
We carry exclusive products from the top industry brands such as Aquadura H2O, Floorcraft, Floorcraft Heritage, and Downs. Whether you're searching for a contemporary maple in the kitchen or a wide-plank white oak for your master suite, we've got you covered.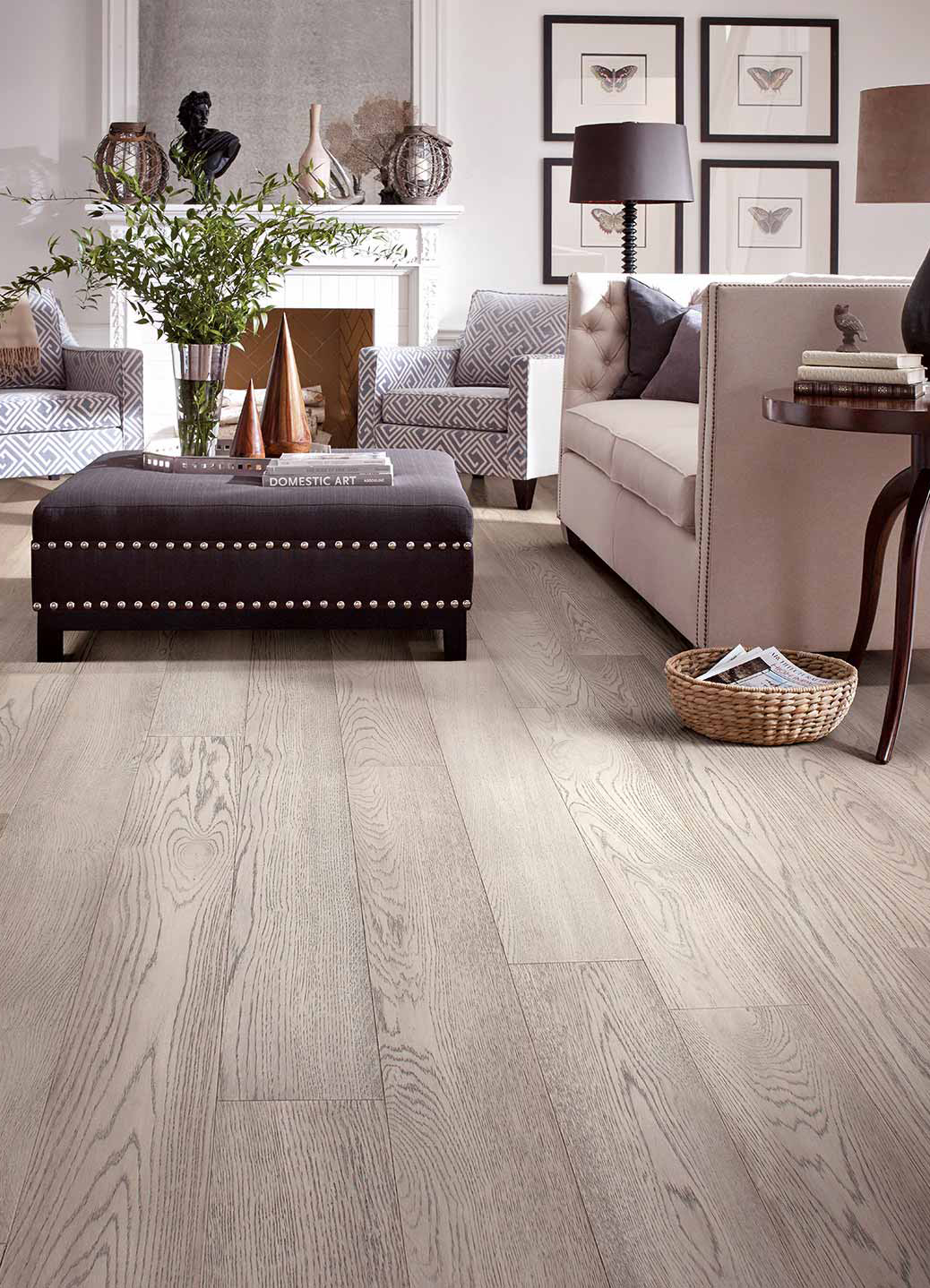 What's the Difference Between Solid and Engineered Hardwood?
On top of choosing what species and style of hardwood you desire for your home design, there's also the added option of installing engineered hardwood floors. While original hardwood flooring is composed of solid wood throughout, engineered hardwood floors are constructed to be more stable and adjust to humidity changes better. Designed with cross-cut planks, engineered hardwood forms a tougher, more durable surface for active households and has the flexibility of expansion and contraction based on your home's climate.
Engineered hardwood does tend to be more expensive than solid hardwood floors, but the added benefits outweigh the cost as these lifelong floors are built to be stronger and can withstand many of your household messes. In both solid and engineered hardwood choices, we offer a stunning selection of botanical tree species, including:
Ash

Hickory

Oak

Maple

Pine

Red Maple

Walnut

White Oak
The Ease of Hardwood Flooring Maintenance
While hardwood floors of the past may have been tricky to keep in mint condition, our spectacular collection of hardwood is hassle-free with such protections as stain resistance and scratch-proof durability. The benefits of hardwood floors are endless, thanks to their timeless appeal, easy upkeep, and comfortable underfoot.
Our line Aquadura H2O hardwood has the added benefit of being waterproof, kid-proof, and pet-proof. Thanks to a special sealant and core, you can rest easy when installing hardwood flooring anywhere in your home, including the kitchen, bathrooms, and basement family room.
Hardwood floors are now a breeze to maintain and only need to be frequently swept, dusted, and vacuumed to keep them pristine for years down the road. Be sure to consult your floor's warranty before using any cleaning agents on your hardwood to ensure that you don't damage any finishes or sealants.
Our Team of Expert Hardwood Floor Installers
When you shop our beautiful hardwood flooring options, you can use the Five Star Selection Method to find the correct combination of installation guarantees and price security guarantees to suit your approach.
Your home design dreams are a top priority for us, and our experienced installation contractors are eager to take the project past the finish line with detailed craftsmanship that stands the test of time.
We highly recommend you schedule your flooring installation with our team of expert installers, as they have access to the best equipment and tools in the industry. Hardwood flooring installation is a significant project and one you don't want to go wrong by hiring an inexperienced installer. Our team of professionals comes prepared with the right resources and knows the best techniques to complete your hardwood flooring installation in no time.
Contact us today at TriCounty Flooring America in Modesto, CA, to begin your journey to beautiful new hardwood floors. We proudly serve the Modesto, Oakdale, and Riverbank, CA areas.