Carpet for Your Lifestyle
Carpet in Modesto, CA
Are you hoping to upgrade the old worn-out carpet in your home but just haven't found a durable yet luxe option? Search no further than our extensive collection of beautiful carpets here at TriCounty Flooring America in Modesto, California. We have everything from plush high-pile rugs for your bedroom floors to durable cut-and-loop styles for the more active areas in your home.
Our showroom houses a wide selection of top-of-the-line carpet options, and our flooring experts will carefully guide you through each fiber to make sure that it's the right fit for you and your lifestyle. We proudly serve the Modesto, Oakdale, and Riverbank, CA areas.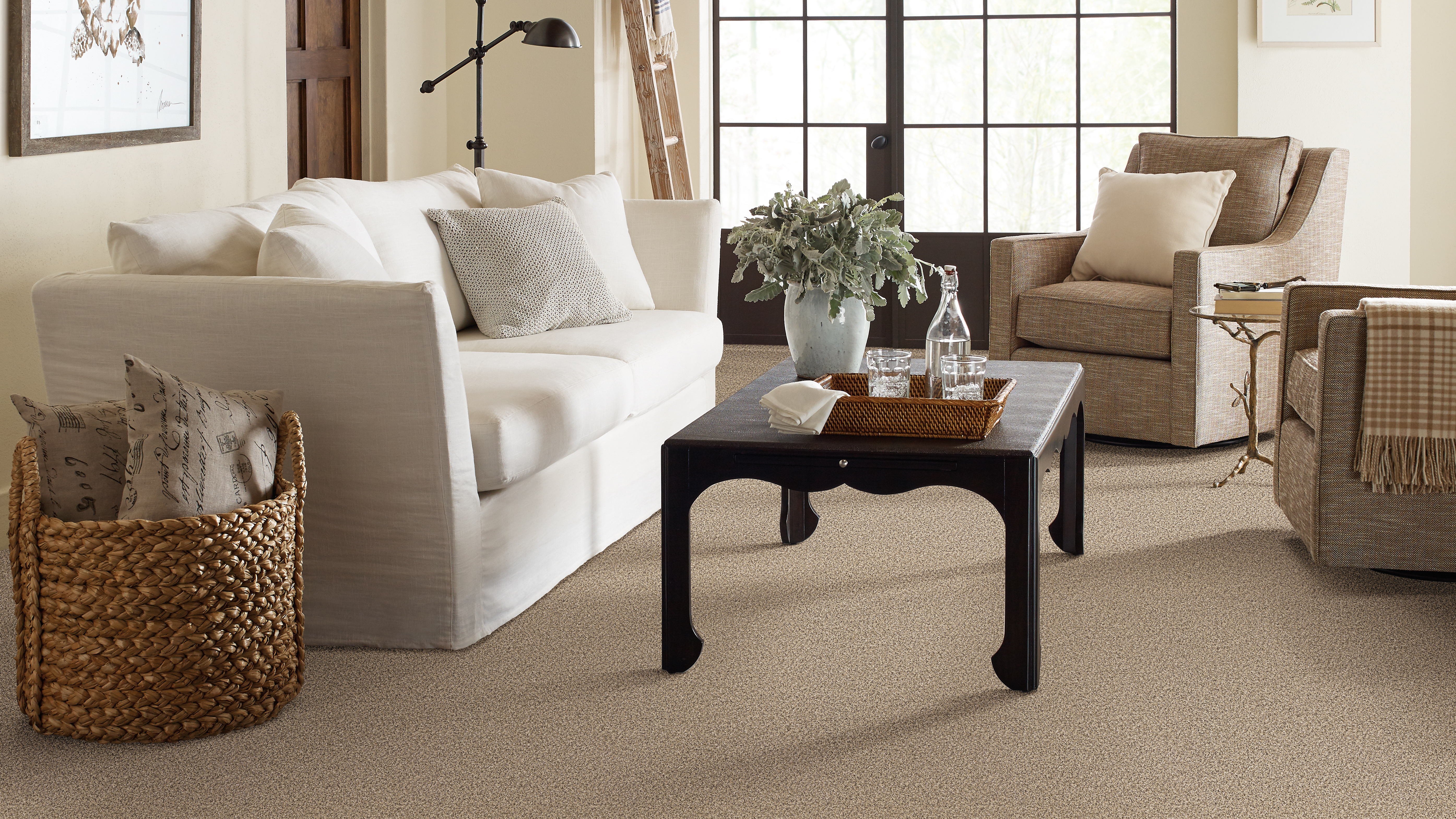 Thanks to our ability to offer customers choices from our impressive flooring collections in an unlimited variety of colors and textures from leading industry brands, we have made a name for ourselves in Modesto, CA. We'll be sure to explain the different types of flooring fibers and which ones are right for your home. If you are searching for a luxurious surface that enhances the look of your home, check out our selection of wool and Saxony fibers that add a rich appeal to every room. For a more casual carpet flooring option, try our assortment of nylon or polyester fibers that provide the strength and stain-fighting protection essential for any busy household. Speak with one of our consultants today to learn more about the following collections in our store:
Frieze
Frieze carpeting is incredibly soft and comes in a cut-pile carpeting construction. The resilient curling fibers of frieze work well to camouflage dirt.
Saxony
A cut-piled carpet, Saxony carpets can add a bit of luxury to any room in your house. Textured Saxony style carpet also adds resistance to wear, shading, and traffic patterns.
Shag
Shag carpeting features a long yarn with individual strands that come in three types: either long, short, or mini shag. For an informal look, go with shag in medium and light traffic areas.
Berber
Berber carpet has a unique style and a cushiony feeling underfoot that can be found in various pile heights and can be constructed as a level-loop or multi-loop carpet, depending on your preference. Berber's natural strength and soil hiding capabilities make it a go-to floor for active areas in the home.
You can trust our local flooring store to deliver the highest-quality brand-name carpeting. As a local Flooring America store, we have access to the top flooring brands in the industry, known for their durability and style. At affordable prices, discover the newest colors and trendiest styles to match your home decor. We sell carpet styles from all of the following leading suppliers:
Hearth & Home
ResistaⓇ Soft Style
TigressáⓇ
Innovia
Stainmaster
Design Distinctions
Selecting the Right Carpet for You
When it comes to a carpet's performance, many factors can influence this, from pile height, stitch rate, and density to face weight. Trust our flooring experts to find the right carpet fibers that can hold up to your household demands. We have an endless range of carpet colors, patterns, and designs, and our main goal is to pinpoint your design objective to find the perfect carpet match for your home or business.
Carpet flooring can make for a great flooring solution to any space, with its advantages of covering uneven subfloors and existing floor damage. Carpet also benefits from being a non-slip surface, making it an excellent choice for families with small kids underfoot.
Carpet advantages are numerous, but perhaps top of mind is its ability to filter and prevent dust allergins from entering your home, creating a safer living environment.
The Ease of Carpet Maintenance
Here at TriCounty Flooring America, we make your carpet maintenance a breeze, as all of our brands are durable and engineered to withstand your household's most challenging stains. Our low-maintenance carpets only require frequent vacuuming and yearly carpet cleaning to maintain their brand-new look for years down the road. Check your floor's warranty before using any harsh cleaning chemicals on your carpets, as some cleaning agents can damage the fibers.
Installing Carpet With Our Professionals
We recommend trusting our professional contractors with your carpet installation. Carpet flooring is a large investment and one you don't want to go wrong by hiring an inexperienced installer who could risk amateur mistakes. Our installation professionals come equipped with the best tools and resources in the carpet industry. We back all of our installations with the Ultimate Confidence Guarantee, meaning that if you should become dissatisfied with your floors within 30 days of the installation, we'll replace them with a similar product for free.
Contact us today to begin your journey to brand new beautiful carpeted floors, and trust our flooring experts to guide you through the selection and installation process.